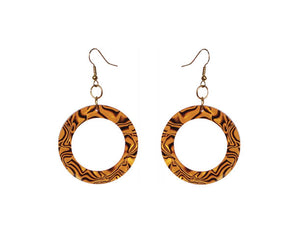 Exotic Safari Shell Earrings
Description: exotic focals with shell patterns.
Stylish for the every day prowl. Animal print never goes out of style and can be worn from country to city fashion.
Weight: Light
Approximate Dimensions: 2.5" long with gold fish hook.
Stylish Gift
My teenage daughter wears her earrings all the time. Great gift choice!
If you love animal prints...
I do for sure & these are one of my favs. Love the way they dangle & move around. Very comfortable to wear. So very pretty.
Love the Versatility
I'm not a big animal print on my clothes person, but these earrings were the perfect accessory for me.