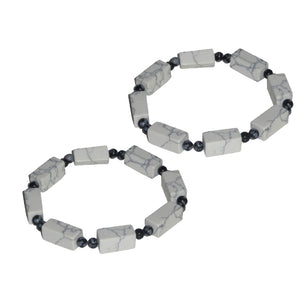 Snowflake Obsidian Stone Bangle
Description: white stone expandable bangle accented with snowflake obsidian beads. Stack for more fashionable style. Sold 1 bracelet.
Simple, lovely, fun & sophisticated jewelry for travel and everyday occasions. 
Approximate Dimensions:  7.5" expandable (1 size fits all)
What drew me to SLJ is the return of the fashion industry to the independent craftsperson. Sasha as a designer really puts in the necessary effort to deliver high-quality products that resonate with different occasions and styles. This bracelet was gifted to me. The marble beads and periwinkle color are perfect for everyday luxe!