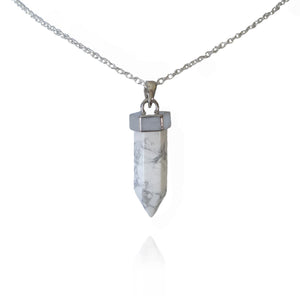 Wisdom Crystal Pendant Necklace
Description: silver chain with stunning howlite stone energy stone. A statement necklace that can be worn for all formal and informal occasions. 
The howlite stone gives the gift of wisdom. Wear this with the Wisdom Crystal Earrings for a stunning matching jewelry set.
Approximate Dimensions: 19.5" opera length with  S hook clasp;
**Please note this is a long opera length necklace. It can be doubled up for shorter length.