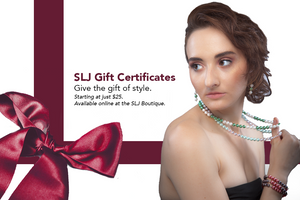 SLJ Gift Certificates are available in quantities of $25, $50, $75, $100, $125, $150, $175 and $200.
Purchase a gift certificate for you or that special someone.
The small print: 
⇁ Gift certificates (+ envelopes) come printed on a beautiful card stock, and can be mailed directly to you or the receiver's address.
⇁ Your gift certificate amount will come in the form of a discount code.  
⇁ Please read HERE on how to use gift certificates and discount codes.
*Gift Certificates are valid up to one year after purchase. There are NO REFUNDS on gift certificates or purchases made using gift certificates.
Let Her Choose
Quick shopping and beautiful gift packaging. This was a perfect gift choice for my girlfriend and she can shop her accessories at the boutique!
Quick Quality Gifts
Easy, quality choice for my family shopping. I decided to spoil the ladies in my family with Sasha L Jewels. They are excited to shop the boutique with their gift certificates!
Perfect Gift for my Wife
My wife loves jewelry. The gift certificate was a perfect choice for Christmas, she can choose her accessory!
Service
I was so pleased with the service and how attentive the staff in making certain the gifts selected were delivered on time. The two recipients was so appreciative. Thanks Sasha Jewelry for great service.