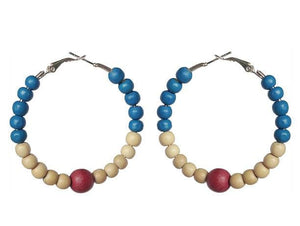 Cuba Carnival Hoops
Description: Cuban earring hoops decorated with white, red and blue wooden beads. Celebrate the Caribbean with the islands Carnival flag and colors. 
Choose from assorted SLJ Heritage Pride Collection or email us to request a special order to represent your country.
Approximate Dimensions: 50mm silver steel hoop with clasp closure. 
Love my sweet nod to my heritage (Viva Cuba Libre)
Lovely hoops - for the longest I thought i could not wear hoops because they are usually to big and over done. These are just right. I've gotten so many compliments and I enjoy them dressed up or down. Muchas Gracia Sasha!!
Nio