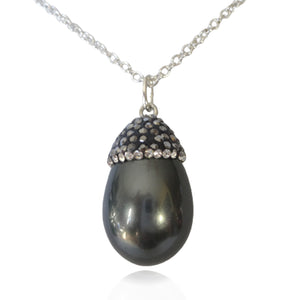 Crystallized Egg Pendant Necklace
Description: silver chain with hematite egg shaped stone  that is topped with crystals. A statement necklace that can be worn for all formal and informal occasions. 
A warrior piece. Hematite is a stone that represents courage and strength.

Approximate Dimensions: 23" opera length with  S hook clasp;
**Please note this is a long opera length necklace. It can be doubled up for shorter length.