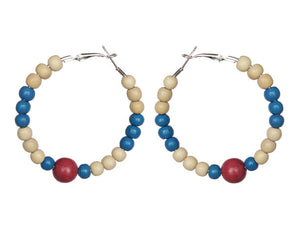 Dominican Republic Carnival Hoops
Description: Dominican earring hoops decorated with blue, white, and red wooden beads. Celebrate the Caribbean with the islands Carnival flag and colors. 
Choose from assorted SLJ Heritage Pride Collection or email us to request a special order to represent your country.
Approximate Dimensions: 50mm silver steel hoop with clasp closure. 
Fun gift repping our cultures!
I purchased these as a gift for my friend as we all went on a music cruise with a Caribbean dance theme. So much fun and she loved them! I adore the styles in this collection that SLJ offers and love to see these cultures brought to life in bold, vibrant statement pieces!