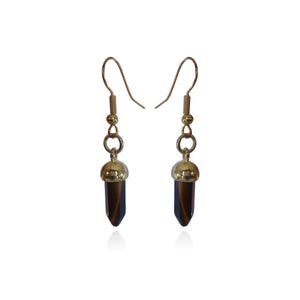 Tiger's Eye Positive Energy Earrings
Description:  tiger's eye stone earrings for the nature and earth grounding lady.
Tiger's Eye, the stone of protection, stabilizes and provides grounding.  Wear these stones to enhance integrity, willpower, self-confidence, practicality and correct use of power.  
Create a beautiful set with Tiger's Eye Charm Bangle, Tiger's Eye Double Leaf Bangles and Tiger's Eye Choker.
Weight: Light
Approximate Dimensions: 1.5 " long; gold fish hook.